In this policy we use the term "cookies" to refer to cookies and other similar technologies covered by the EU Directive on privacy in electronic communications.
What is a cookie?
A cookie is a small piece of data that a website asks your browser to store on your computer or mobile device. The cookie allows the website to "remember" your actions or preferences over time.
Most Internet browsers support cookies; however, users can set their browsers to decline certain types of cookies or specific cookies. Further, users can delete cookies at any time.
Why do we use cookies?
We use cookies to learn how you interact with our content and to improve your experience when visiting our website(s). For example, some cookies remember your language or preferences so that you do not have to repeatedly make these choices when you visit one of our websites. We also use cookies to help us with geolocation tracking in order to present you with the closest ZAFUNA station and office locations. Additionally, cookies allow us to serve you specific content, such as videos on our website(s). We may employ the learnings of your behavior on our website(s) to serve you with targeted advertisements on third-party website(s) in an effort to "re-market" our products and services to you.
What types of cookies do we use?
Third-Party Cookies
Third-party cookies belong to and are managed by other parties, such as ZAFUNA business partners or service providers. These cookies may be required to render certain forms, such as the submission of a job application, or to allow for some advertising outside of the ZAFUNA website.
Session Cookies
Session cookies are temporary cookies that are used to remember you during the course of your visit to the website, and they expire when you close the web browser.
Persistent Cookies
Persistent cookies are used to remember your preferences within the website and remain on your desktop or mobile device even after you close your browser or restart your computer. We use these cookies to analyse user behavior to establish visit patterns so that we can improve our website functionality for you and others who visit our website(s). These cookies also allow us to serve you with targeted advertising and measure the effectiveness of our site functionality and advertising.
How are cookies used for advertising purposes?
Cookies and ad technology such as web beacons, pixels, and anonymous ad network tags help us serve relevant ads to you more effectively. They also help us collect aggregated audit data, research, and performance reporting for advertisers. Pixels enable us to understand and improve the delivery of ads to you, and know when certain ads have been shown to you. Since your web browser may request advertisements and web beacons directly from ad network servers, these networks can view, edit, or set their own cookies, just as if you had requested a web page from their site.
Although we do not use cookies to create a profile of your browsing behavior on third-party sites, we do use aggregate data from third parties to show you relevant, interest-based advertising. We do not provide any personal information that we collect to advertisers. You can opt out of off-site and third-party-informed advertising by adjusting your cookie settings. Opting out will not remove advertising from the pages you visit, but, instead, opting out will result in the ads you see not being matched to your interests. This implies that the ad(s) you see will not be matched to your interests by those specific cookies.
How are third party cookies used?
For some of the functions within our websites we use third party suppliers, for example, when you visit a page with videos embedded from or links to YouTube. These videos or links (and any other content from third party suppliers) may contain third party cookies, and we encourage you to consult the privacy policies of these third party vendors on their websites for information regarding their use of cookies.
How do I reject and delete cookies?
You can choose to reject or block all or specific types of cookies set by virtue of your visit to a ZAFUNA website by clicking on the cookie preferences on our website(s). You can change your preferences for ZAFUNA websites and/or the websites of any third party suppliers by changing your browser settings. Please note that most browsers automatically accept cookies. Therefore, if you do not wish cookies to be used, you may need to actively delete or block the cookies. If you reject the use of cookies, you will still be able to visit our websites but some of the functions may not work correctly. You may also visit www.allaboutcookies.org for details on how to delete or reject cookies and for further information on cookies generally. By using our website without deleting or rejecting some or all cookies, you agree that we can place those cookies that you have not deleted or rejected on your device.
COOKIES USED ON ZAFUNA.COM WEBSITE
| Cookie | Domain | Type  | Description | Duration |
| --- | --- | --- | --- | --- |
| YSC | .youtube.com | Advertisement | This cookies is set by Youtube and is used to track the views of embedded videos. | session |
| VISITOR_INFO1_LIVE | .youtube.com | Advertisement | This cookie is set by Youtube. Used to track the information of the embedded YouTube videos on a website. | 5 months 27 days |
| PHPSESSID | www.zafuna.com | Necessary | This cookie is native to PHP applications. The cookie is used to store and identify a users' unique session ID for the purpose of managing user session on the website. The cookie is a session cookies and is deleted when all the browser windows are closed. | session |
| CONSENT | .youtube.com | Other | No description | 16 years 6 months 1 d |
How to Delete YouTube Cookies
There are many occasions when you may want to delete your YouTube cookies. Reasons for doing so include protecting your privacy, or simply cleaning some clutter. Clearing your browsing history would certainly get rid of your YouTube cookies, but it would also clear all the other cookies that you want to keep. A better solution is to take a couple extra steps and delete your YouTube cookies while keeping the rest of your browsing history intact. Read on to learn how to delete YouTube cookies.
Step 1
Update your browser. While it is possible to delete your YouTube cookies using nearly any version of Internet Explorer or Firefox, the more recent version of both browsers make the process much simpler. In older versions, deleting specific cookies might mean digging around at the command prompt or hunting obscure options buried deep in the browser settings. As of version 3.0 for Firefox and version 7 of IE, things are much easier.
Step 2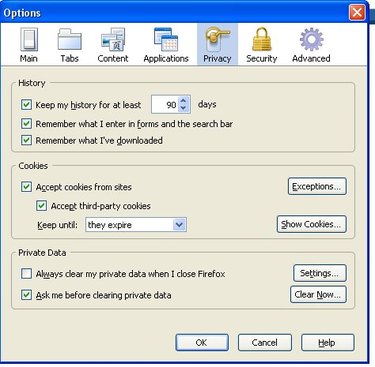 Locate your cookie controls. In order to delete your YouTube cookies you will need to find the cookie controls. For Firefox, this means going to the tools menu and choosing "Options." Look for the privacy menu. Once on this tab, you will see a section entitled "Cookies." From here, you can click on the show "Show Cookies" option. The procedure is similar for Internet Explorer. First, locate the "Tools" menu and select "Internet Options." Once you are here, go to the "Browsing History" section and click on "Settings." Finally, click the "View Files" button. This will show you all of your temporary Internet files including your YouTube cookies (your cookie files will end in a .txt extension).
Step 3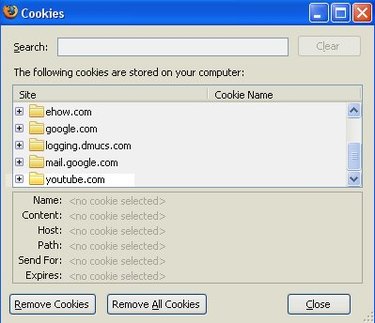 Find your YouTube cookies.Once you are in your cookie controls, you can find your YouTube cookies. Your cookies are listed in alphabetical by the name of the site that placed them. Scroll down until you locate YouTube.
Step 4
Delete the YouTube cookies. YouTube actually uses more than one cookie to keep track of user actions. Once you have located your YouTube cookies you have the option of deleting all of them or only specific cookies. If you are looking to delete only certain parts of YouTube information it may take a little experimenting to get the results you want.